BC2A HQ
BC2A HQ is C2 turn-key solution that addresses operational needs for HQs from tactical up to joint echelons by offering a standardized set of collaborative core and interoperability features.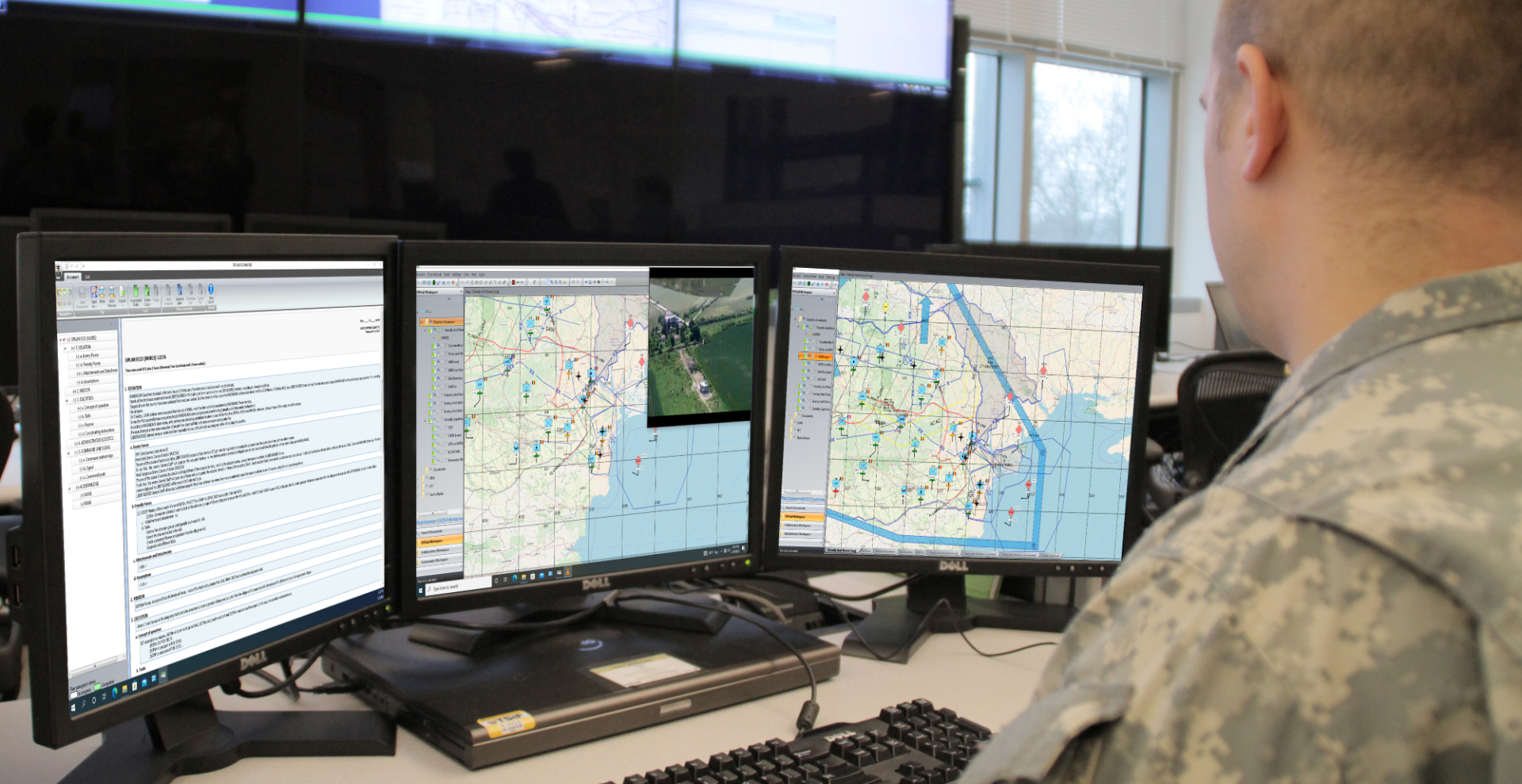 Components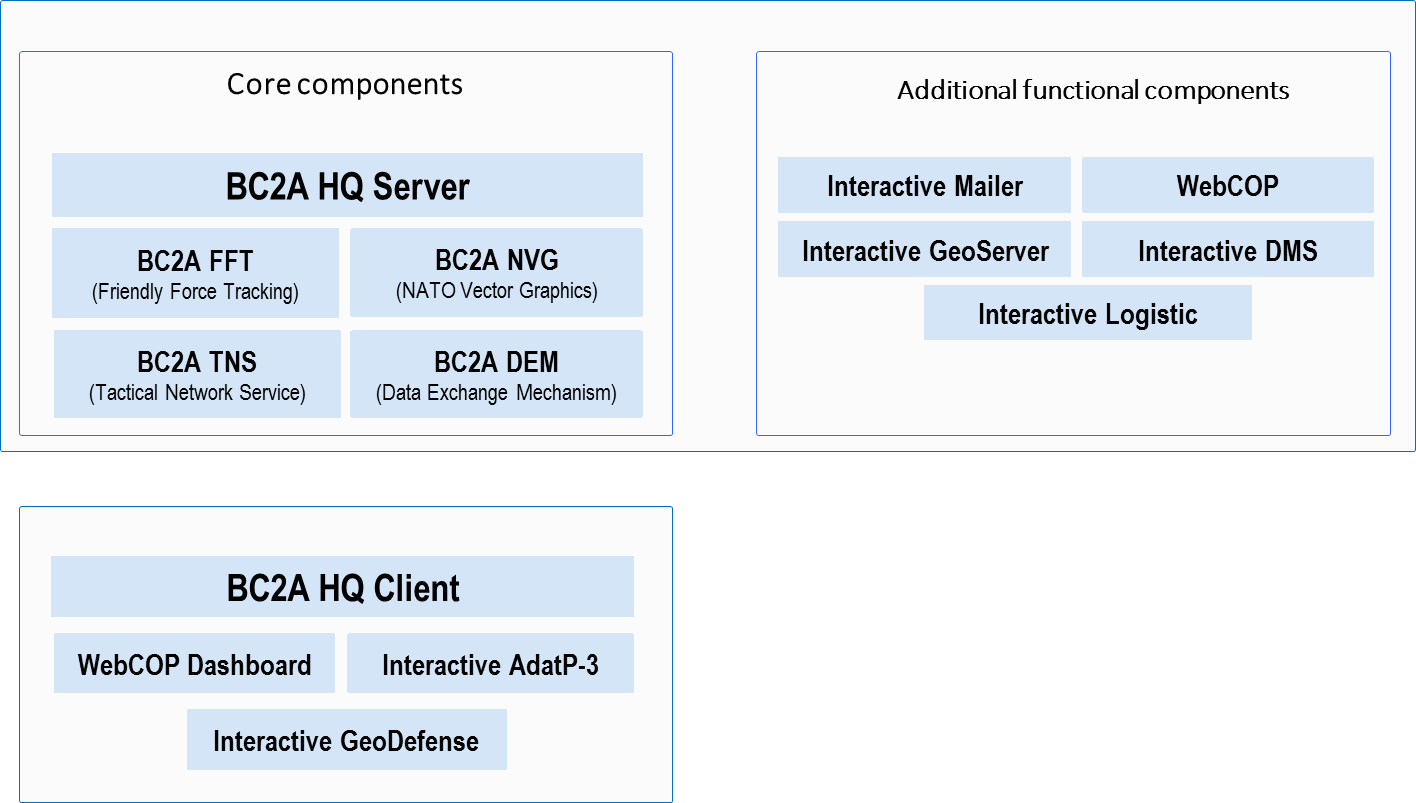 Core Features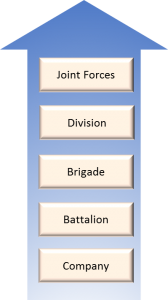 BC2A HQ Server
Manages the users' collaborative work in virtual operation environments and access rights based on the role based access control (RBAC) mechanism;
Manages the access to the command post central database based on JC3IEDM data model;
Ensures the data exchange with other c2 systems:

NFFI data exchange and integration with NFFI image
Data exchange with the radio single-channel radio environment
Data exchange with community MIP DEM (3.0/3.1) and other similar national systems.
BC2A FFT
Friendly force tracks data exchange of own troops in the coalition joint operations for avoiding fratricide fire. Used in Mission Secret classified LAN/WAN networks.
BC2A NVG
Supports situational awareness interoperability for all identified NATO mission types.
BC2A TNS
Data exchange between BC2A Platform on vehicles over radio environments and the control and surveillance applications in the command posts.
BC2A DEM
Data exchange over LAN/WAN environment for interoperability based on MIP-DEM protocol according to MIP Block 3.0/3.1.
Additional Server Components
Interactive Mailer
SMTP mail server for tactical echelons for messaging in single – channel radio environment.
Interactive DMS
Manages C2 electronic documents offering strong workflow features, highly secured access, searching capability, managing cross-hyperlinks and access documents.
BC2A WebCOP
It is a webservice that concentrates information from different C2 sources for offering a single display of relevant information within a commander's area of interest, tailored to the user's requirements.
Interactive Logistic
Performs inventory management for equipment, materials, spare parts and accessories within an organization as well as monitoring of the maintenance operation of the equipment and solving incidents and failures.
BC2A GeoServer
Webservice that provides military adopted geographic content publishing services (GIS) for Headquarters.
BC2A HQ Client
Client component which represents the user interface to access the information from Headquarters' central database, managed by the BC2A HQ server.
Interactive AdatP-3
Formatted message editor implemented according to the AdatP-3 standard ensuring interoperability between C2 various systems at the level of message exchange mechanism.
WebCOP Dashboard
Displays JCOP in a web browser application.
Interactive GeoDefense
Set of runtime libraries that provides standardized environment for development for integration of geospatial features in software applications. SDK also available for further integrations.
Improves cycles of decision-making process by automating various standard operating procedures
Covers all the core common operational requirements for all echelons
Improves and automates the Common Operational Picture – COP
JCOP (Joint Common Operational Picture) image into a browser
Meets NATO interoperability requirements and symbology
Standardized data exchange mechanisms over LAN/WAN and combat radio network
Flexible and easy configurable solution to operational needs FMN
Secure access based on Role Based Access Control and Single Sign-on mechanisms
Easy integration with other systems (fire management, targeting, etc.)
Open architecture and SDK available for further independent development
Local language interface
BC2A HQ has been tested in various exercises and working groups of interoperability:
Coalition Warrior Interoperability Exercise 2011-2023
MIP working groups activities for interoperability 2007-2023
Defender 2021 – IOC Certification for NATO MNC-SE
Cetatea, Dacica, Getica 2020
Histria 2022