Interactive GeoDefense
Is a software application that offers a standardized environment for development and integration of geospatial capabilities, military symbology and command and control (C2) concepts in custom software applications.
Allows programmers and technology integrators new software developments of command & control (C2) alike applications (as well civilian applications for emergency situations, fleet management, logistic operations monitoring and control) without the need to study and learn specific GIS and military/defence technologies. All of them are already encapsulated in user friendly business and simple software concepts, ready to be used in applications, giving the developers the freedom to focus on the business logic of their applications.
General Overview:
Provides access to software libraries that is working with GIS (using Interactive GIS Engine) and military operational content (using Interactive Symbology) based on NATO APP6-A, APP6-C standards;
Provides extensions for working with 3D visualization (using the Interactive GIS extensions) of GIS and military data;
Provides specific network services to access geographic standard and military content (DTED – Digital Terrain Elevation Data, VMAP Vectorial map) published services (using the Interactive connectors;
Provides a SDK that can be used in the integrated development environment (IDE) Microsoft Visual Studio;
Provides interfaces to 3rd party GIS engines and specific military systems (using the Interactive connectors for 3rd party GIS engines and defence tools)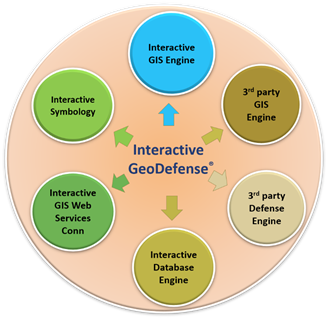 Benefits
The development teams that embrace the integration of GeoDefense SDK into their own software applications will benefit of the followings:
Concepts from GIS world and defence industry modelled into a simple data objects model, easy to learn and understand, easy to integrate and well documented;
Quick and cost-effective way to adapt existing software or construct new applications for the specific defence market and civilian correspondents;
Strong GIS, defence symbology and C2 operational elements that can be always used, which are regularly updated upon GIS industry trends and NATO standards.